Earthnet Clear on Cloud-Based Future
By Earthnet Inc.
November 10, 2015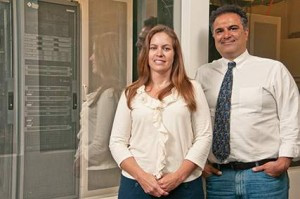 Chief operating officer Amy Lopez and chief executive Bahman Saless pose in Boulder-based Earthnet Inc.'s data center.
Boulder, Colorado – In these heady days of virtualization and remote computing, however, more local data centers are looking to cloud computing as the answer to boosting their capacity to deliver services.
Generally, cloud computing describes computing resources that are grouped and redistributed based on user need. In practice, cloud computing creates an on-demand, self-managed virtual infrastructure in which resources can be allocated quickly and dynamically.
Earthnet Inc. is one of only about 30 Tier 1 data centers in Colorado, providing customers with dual OC-12 fiber optic connectivity, backup generators, cooling and security—not to mention a continuous "up-time" of more than seven years. The company is configuring an expansion of its cloud-computing infrastructure that will allow it to double the number of customers it can serve.
"It is a physical expansion in that we're bringing in more equipment," said chief technology officer Matt Simmons. "We haven't expanded the size of our facility but because of the new servers, we are able to fit significantly more customers on the same amount of floor space."
A lot of factors are involved in running a data center, including security, cooling, redundant power and fire suppression. Earthnet's new configuration will allow it to serve significantly more customers without upgrading its building's infrastructure needs.
"We are still in the midst of configuring the new equipment, but what we are buying will ultimately cost somewhere between $160,000 and $300,000," said chief executive Bahman Saless. The package being purchased from EMC Corp. includes integrated storage solutions, Cisco switches and a state-of-the-art enterprise cloud platform developed by VM Ware.
Earthnet's team acknowledged that security and accountability are major issues for its business and government-sector customers, particularly in the wake of many high-level security leaks in the news.
"Everyone likes the idea of the public cloud and it works well in certain industries, but information disclosure is a real problem," Simmons said. "With our new platform, we are providing the same flexibility, scalability and redundancy as a conventional public cloud, but we offer those advantages as a private cloud. We are able to partition the cloud environment to the customer and give them access to specific resources without blending those resources with other customers' data. We are able to provide a level of security and accountability that you just can't get in a conventional cloud environment."
With a staff of five, Earthnet has also taken pains to create an agile, responsive data center that matches the talents of its employees with the efficiencies of its machines.
"We have intentionally tried to keep the staff small but efficient," Simmons said. "We have fewer but more highly qualified people. They wear more hats but they also have a greater understanding of the big picture than a big organization that has a lot of specialists. In Boulder, people present us with all kinds of crazy scenarios that have never been tried. We help solve unsolvable problems."
Saless, who has a personal interest in improving resources for the medical industry, says the potential for these new services is significant, particularly in the technology-rich markets surrounding Boulder County. "There has just been an explosion of interest in cloud computing," he said. "Boulder is still a technology incubator, even though the technology market has changed. In terms of our business capacity, this expansion will easily put us in a very comfortable place for the next three to five years. This is something that really sets us apart from everybody else for the near future."
See the original article from the Boulder County Business Report.
Comments Closed