Some people get bounce messages when they try and email me!
If you can receive mail from most people, but a few people - that you know and trust - cannot send you mail anynmore (they get bounce messages back to them), then most likely it is because:
their mail server is misconfigured (reverse DNS issue)
or their mail server is listed on an RBL (Relay Black List)
REVERSE DNS ISSUES
Earthnet mail servers do Reverse DNS checks.
When one of our mail servers receives a message, the very first thing it does is check the IP address it's coming from. It then does a reverse DNS lookup to make sure that the IP address is bound to a hostname (for example, mail.example.com).
If there is no response, the email is rejected by our server, and a bounce message is sent to the sender, saying "cannot find your hostname".
WHY ARE WE DOING THIS?
The reason why our mail servers are doing reverse DNS check is to fight spam, and protect our customers from spam.
A common technique for spammers is to make use of compromised computers to turn them into an outgoing mail servers. However, the IP address of those "zombie" computers almost never binds to a valid hostname. Spammers trying to use this technique are blocked right away.
Moreover, since the process is aborted right away, they don't even get a chance to check if the random email addresses they generate actually match to a real recipient.
More and more ISP's are doing these checks, and if an outgoing mail server does not have a valid reverse DNS record (also called PTR record), their mail will get rejected by not only Earthnet, but a huge amount of other recipients.
HOW TO CHECK IF A MAIL SERVER IS SETUP RIGHT?
There is an easy way to do this. Open your web browser, and go to the website called www.dnsstuff.com.
SCROLL DOWN, until you see something similar to this: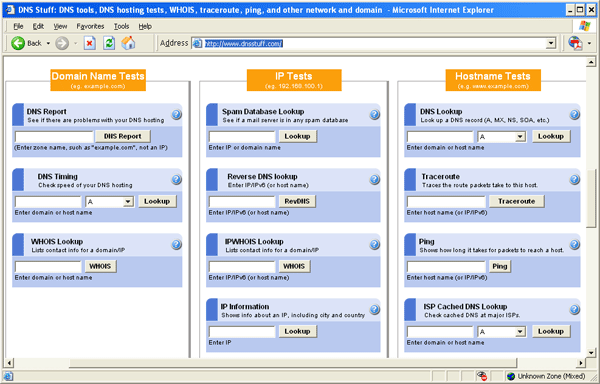 In the upper left-hand corner, in the box called DNS Report, enter the name of the domain that the email is coming from. For example, if you're inquiring about an email sent from john@example.com, you would enter example.com in that box.
Now, click on the buttion "DNS Report", and check the results. In the category called "MX", everything should be green and set to "PASS" (or back and "INFO").
If the last section of "MX", called Reverse DNS entries for MX records, indicates FAIL and is red, then all mail coming from that domain to Earthnet will bounce.
If anything else in that MX section is red and fails, it needs to be fixed until everything appears green and "PASS".
SO, HOW DO I FIX THAT?
To fix the problem, the systems administrator of the misconfigured domain need to be contacted. They are the only ones who can fix that kind of issues.
If you do not know how to get ahold of the system administrator directly, simply tell the person who received the bounce message to contact
their ISP,
or their web hosting company,
or their IT person
depending on how their email is managed.
The administrator of the domain will need to add a reverse DNS record (A.K.A. PTR Record) for the IP address of their mail server.
Chances are, if a mail server is misconfigured and is missing reverse DNS entries, that Earthnet is not the only mail server rejecting mail from them (far from it!).
WHAT'S THE WORKAROUND IN THE MEANTIME?
Most likely, you won't be able to wait until the systems administrator of your contact fixes the problem to receive the email you want or need.
There are a couple of workarounds:
You can give your contact an alternate email address to email you at. If for example you have an alternate email address that is not hosted by Earthnet (such as john.doe@otherprovider.com), you could tell your contact to email you at that alternate email address.
Alternately, if your contact happens to have an email address with a web based email provider, such as Gmail, Yahoo, Hotmail, etc, ask your contact to send his email from that web based email account. These are known and trusted providers who are properly configured, and emails originating from them won't get bounced by our mail server.