Spam Filter - How to Automatically Delete Blacklisted Emails
Last edited: June 6, 2009
Our spam filter's default behavior is to simply move all messages coming from a blacklisted sender into the spam folder. It does not delete them automatically.
If, however, you would like to have ALL emails from blacklisted senders permanently and automatically deleted, so that you never even see them, you will have to create a special rule. Here's how...
Log on to Webmail: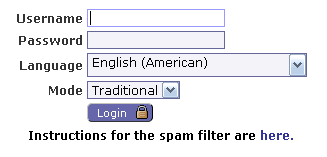 From the left menu, under the 'Mail' category, click on 'Filters', then click on the 'New Rule' button: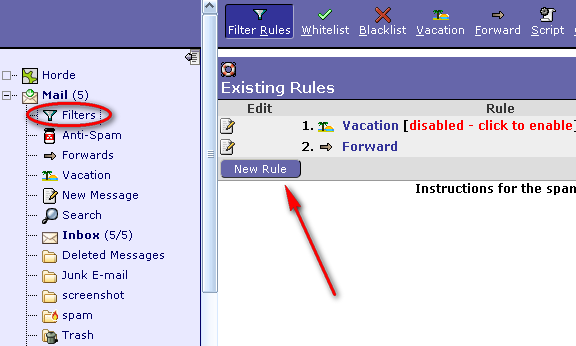 You will see the following dialog box.
First, give a name to your new rule - we suggest calling it 'Blacklist'.
Then, from the 'Select a Field' dropdown box, choose 'Self Defined Header':

A new box will appear for the header name.
Enter

'X-Spam-Report'

for the

'Self Defined Header'

field. (1)
The middle dropdown in that row should say

'Contains'

and in the box on the right, enter

'USER_IN_BLACKLIST'

. (2)
In the

'Do this'

dropdown, choose

'Delete message completely.'

(3)

Check

the box that says '

Stop Checking if this rule matches

'. (4)
Finally, click

'Save'

. (5)

When you're back on the filter list, enter '1' in the box to the right of the blacklist rule and hit enter to move it to the first position in the list. This is necessary for it to preempt the spam rules.

You can now log out of webmail. From now on, all messages coming from a sender on your blacklist will be discarded silently.