TCP/IP Settings - Windows 95/98/Me
This document will show you how to change your TCP/IP Settings on a Windows 95/98/Me computer.
1 - Click on the Start button, then click on Settings and choose Control Panel
From the Control Panel window, double-click on the Network icon.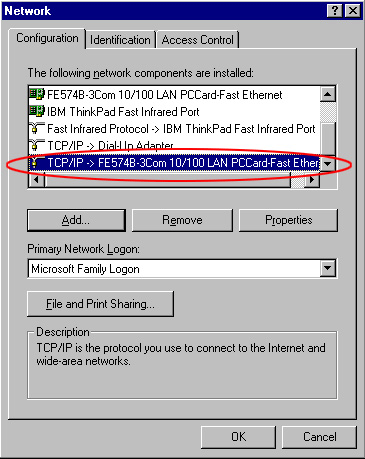 2 - Click the TCP/IP listing associated with your network card (not the one associated with your Dial-up Adapter). You may need to scroll down to find it. An example of one is shown to the right. Once you've selected the appropriate listing, click Properties.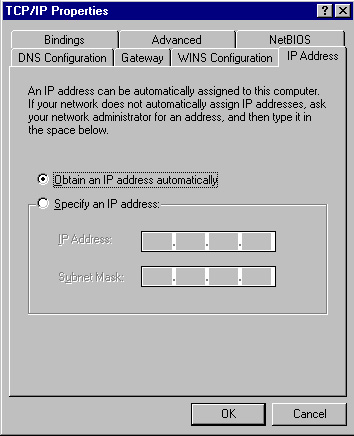 3 - Go to the tab called IP Address.
The default setting is to Obtain an IP address automatically (DHCP assigned IP address).
If you need to configure your connection for a block of routed static IP's, this is where you would enter your IP address (the gateway IP address) and the subnet mask. You would have, of course, to select the radio button Specify an IP address, and then fill out the boxes.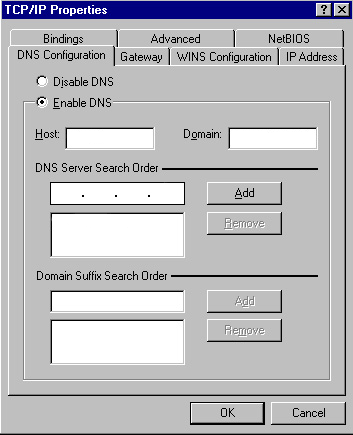 4 - Go to the tab called DNS Configuration
To have Windows automatically assign DNS servers, just select the radio button Disable DNS
To manually specify your primary and secondary DNS servers, select the radio button Enable DNS and fill out the DNS Server Search Order box and click Add
5 - Once you've chosen the setting that is right for you, you just have to click OK and OK again to confirm your changes.