How to configure your Actiontec Modems for DYNAMIC IP
(New Firmware)
These instructions will help you configure your Actiontec modem with a dynamic IP address.
These instructions apply to the newer models of Actiontec GT701 modems. These modems are usually not wireless ready (if you got it from Century Link) and an easy to recognize them is to check whether or not they have a black antenna sticking out from the back of the modem. If they do, then most likely it's an older, wireless ready GT701W. If there is no antenna on your modem, and it's an Actiontec, and you bought it during or after 2006, then it's probably one of these new GT701, so keep reading.
For the physical installation of the modem, please refer to the instructions that came with your modem. You might need to insert the CD-Rom provided with the modem to access those instructions.
If you run the installation CD, when prompted, choose Other ISP, PPPoA protocol, Dynamic IP address, and enter your login and password.
Even if you choose the installation CD installation, please follow the next steps afterwards, to make sure your connection is properly configured.
Open your web browser and type in the address: 192.168.0.1
This will open the configuration window for the Actiontec modem: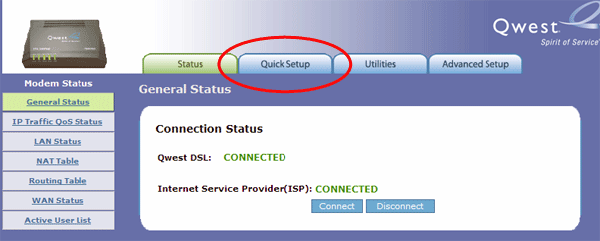 Click on the Quick Setup. It will display this page: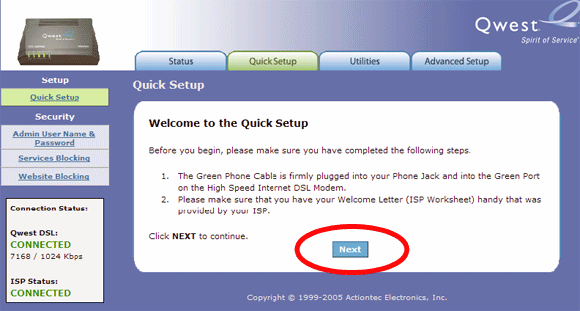 Click on the NEXT button.
You should see this page: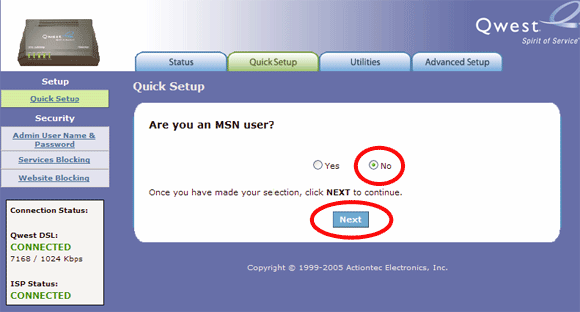 Choose NO when asked if you are an MSN user, and click NEXT.
Now we're getting into the real configuration: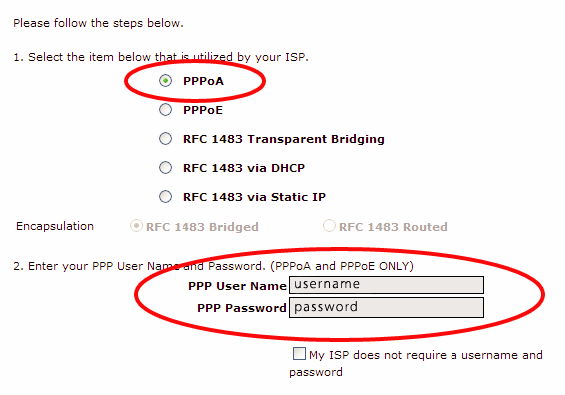 Select the first option: PPPoA (in question 1).
Enter your USERNAME and your PASSWORD (be careful, your username and your password are CaSe SeNsItIvE!) (in question 2)
Scroll down to question 3: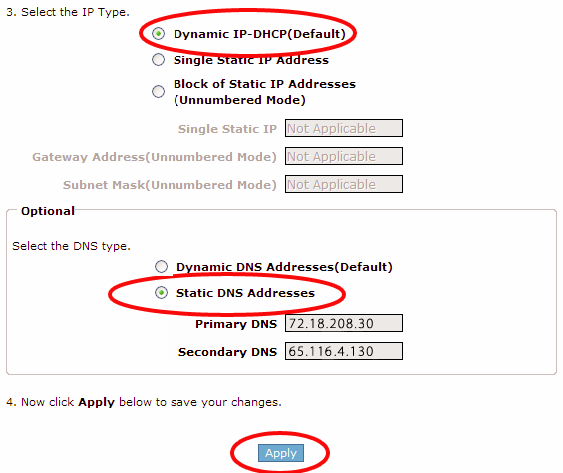 Under IP TYPE and select DYNAMIC IP-DHCP (Default).
In the Optional window, select STATIC DNS ADDRESSES.
Enter these numbers:
Primary DNS: 72.18.208.30
Secondary DNS: 65.116.4.130
You can now click the APPLY button.
Your Power and your DSL lights should be steady green. Your Internet light should also turn green steady a couple of seconds later.
If you can see all three lights – Power, DSL and Internet – green and steady, then you should be connected successfully to the Internet.
If you have difficulties at this point, please try our basic DSL troubleshooting.
For more information about this modem, try the Century Link website. If you need to check our settings, check our DSL Reference page.