How to configure your DSL modem
Actiontec Modems SINGLE STATIC IP
These instructions will help you configure your Actiontec modem with a Single Static IP address.
Click here if you did NOT request a Static IP address.
Click here if you requested a block of 2 or more Static IP's.
Click here if your modem is not an Actiontec modem.
Otherwise, keep reading!
For the physical installation of the modem, follow the very detailed instructions that can be found on installation CD-Rom (Actiontec Installation Buddy). The installation CD will provide you with all the instructions you need to connect all the cables between your modem, your computer and your phone line, as well as instructions regarding DSL phone filters.
You can also find a PDF version of the instructions manual for the Actiontec GT701 modem here.
If you run the installation CD, when prompted, choose Other ISP, PPPoA protocol, Static IP address, and enter your login and password.
Even if you choose the installation CD installation, please follow the next steps afterwards, to make sure your connection is properly configured.
Open your web browser and type in the address: 192.168.0.1
This will open the configuration window for the Actiontec modem: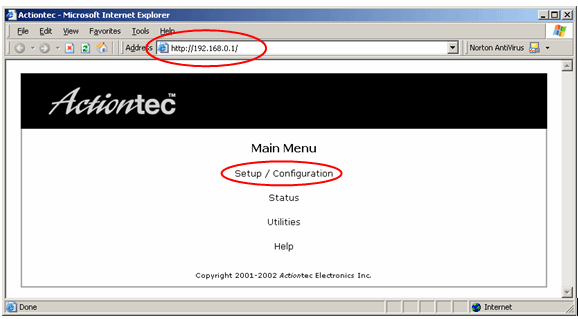 Click on SETUP/CONFIGURATION. It will display this page: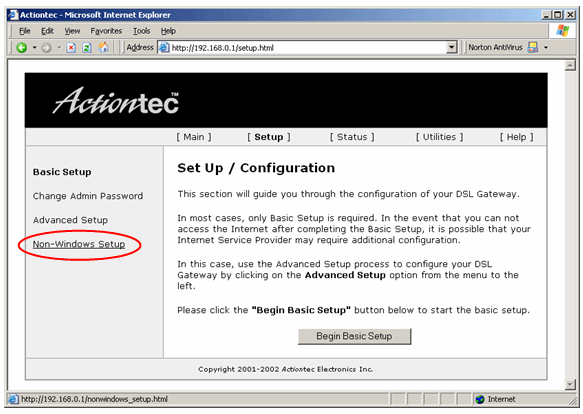 Don't choose the basic setup! Instead, choose NON-WINDOWS SETUP (found under the left menu, the last option).
Note: this might be called ALTERNATIVE SETUP. If you can't find "Non-Windows Setup", choose that "Alternative Setup" option.
You should see this page: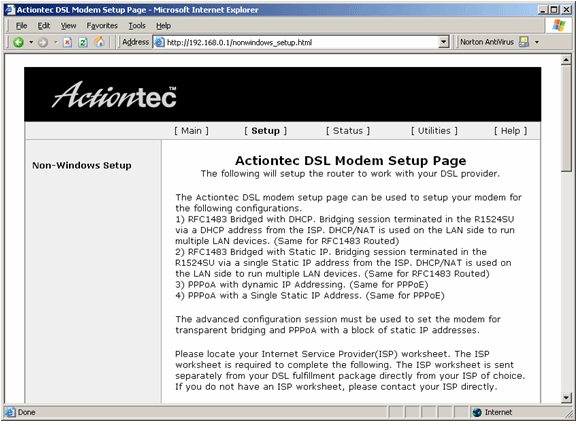 Scroll down to ISP PROTOCOL and select PPPoA.
Enter your USERNAME and your PASSWORD (be careful, your username and your password are CaSe SeNsItIvE!).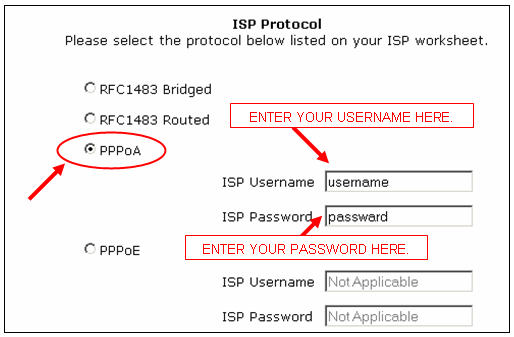 Scroll down to IP CONFIGURATION and select STATIC.
In the IP box, enter the static IP you were assigned by Earthnet.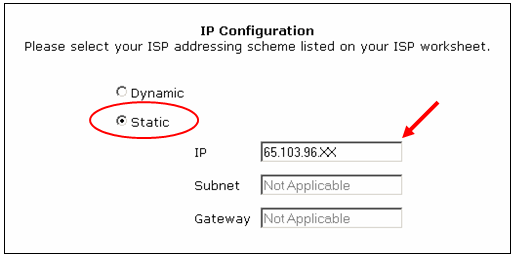 Scroll down to DNS CONFIGURATION and select STATIC.
Enter these numbers:
Primary DNS: 72.18.208.30
Secondary DNS: 65.116.4.130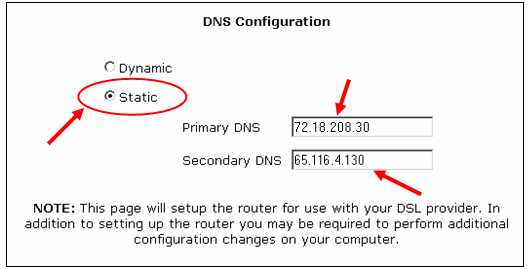 Now click SAVE AND RESTART.

On the next page, click once again on SAVE AND RESTART.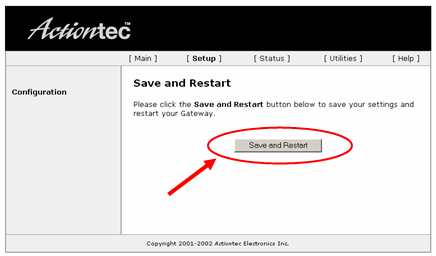 You should now see the congratulations screen. Wait until the modem is fully rebooted (the Power Light should become green steady).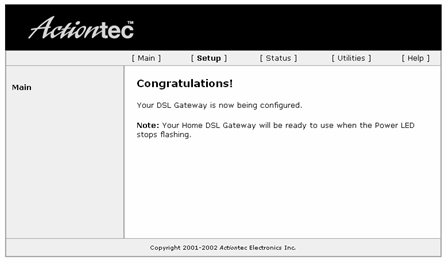 Your Power and your DSL lights should be steady green. Your Internet light should also turn green steady a couple of seconds later.
If you can see all three lights – Power, DSL and Internet – green and steady, then you should be connected successfully to the Internet.
If you have difficulties at this point, please try this: