How to Reset your Actiontec Modem to its Default Settings
This document will show you how to reset your Actiontec modem to its default settings, also known as factory settings.
PLEASE NOTE: resetting your modem to its default settings will completely wipe out all your configuration settings, including your username, password, IP address, wireless settings, etc. Do not use it unless you're absolutely certain you will be able to reconfigure it from scratch. Make sure you made a note of the settings you want to keep (such as username, password, wireless WEP key, static IP address...).
Open your web browser and type in the address: 192.168.0.1
This will open the configuration window for the Actiontec modem: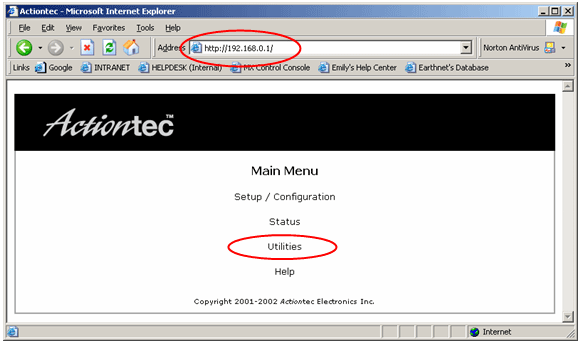 Click on UTILITIES. This will bring up the Utilities page.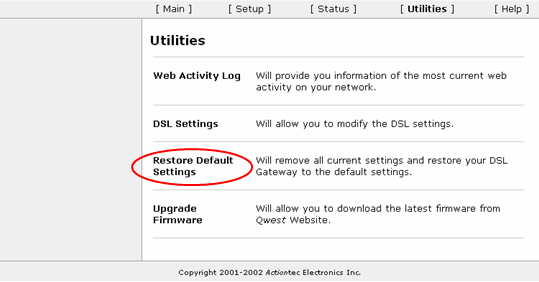 Click on RESTORE DEFAULT SETTINGS.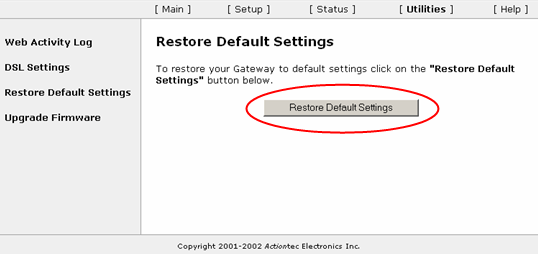 Click on the RESTORE DEFAULT SETTINGS button.
You should get the CONGRATULATIONS window.
Your modem will restart. Wait until the lights on the front panel of the modem stop blinking.
You can now reconfigure your modem from scratch.
Related Links: