How to configure your DSL modem
Actiontec Modems BLOCK of STATIC IPs
These instructions will help you configure your Actiontec modem with a Block of 2 or more Static IP address.
Click here if you did NOT request a Static IP address.
Click here if you requested a single Static IP's.
Click here if your modem is not an Actiontec modem.
Otherwise, keep reading!
For the physical installation of the modem, follow the very detailed instructions that can be found on the instructions manual for the Actiontec GT701 modem (click here to download the Adobe PDF version).
Open your web browser and type in the address: 192.168.0.1
This will open the configuration window for the Actiontec modem: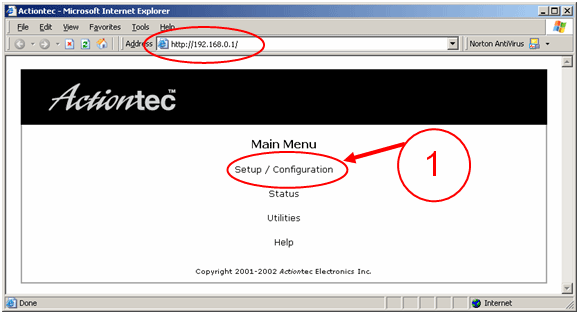 1 - Click on SETUP/CONFIGURATION.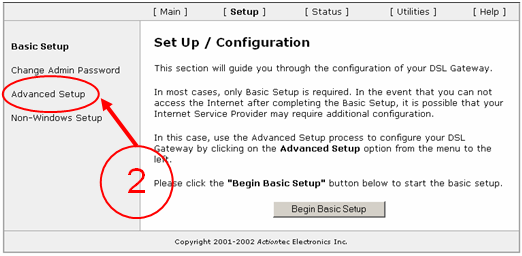 2 - Don't choose the basic setup! Instead, choose ADVANCED SETUP.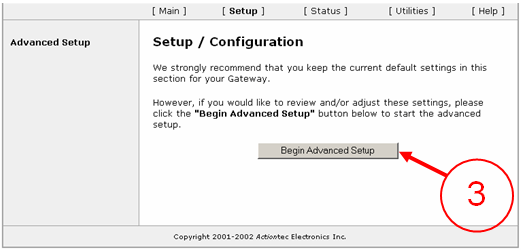 3 - Click on the BEGIN ADVANCED SETUP button.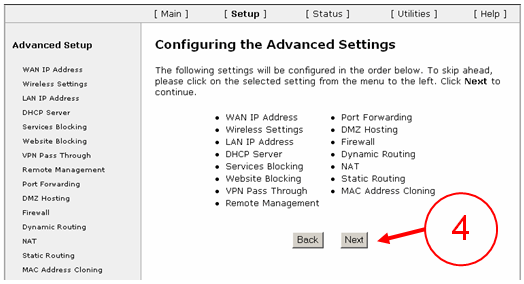 4 - Click on the NEXT button.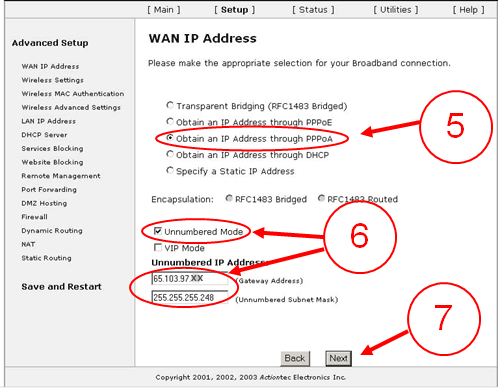 5 - Make sure "Obtain an IP address through PPPoA" is checked.
6 - Check the "Unnumbered Mode" checkbox.
In the Gateway Address box, type in the your gateway address. Enter your Subnet Mask in the next box (the one on the screenshot is showed for display purposes only!). Call Earthnet to get your Gateway address and your subnet mask if you don't know them.
7 - Click NEXT.
PLEASE NOTE : at this point, you might get a message saying that the modem needs to be rebooted. Accept the reboot. Once it's rebooted, you will have to specify the IP address and the subnet mask manually in the TCP/IP settings.

Click on your operating system below to see how to change your TCP/IP Settings:
Windows 200/XP | Windows 95/98/Me | Mac OS X

Once it's done, go back to the Actiontec interface by typing your Gateway address in the address bar (NOT the 192.168.0.1) and find your way back to this page by following steps 2 to 7.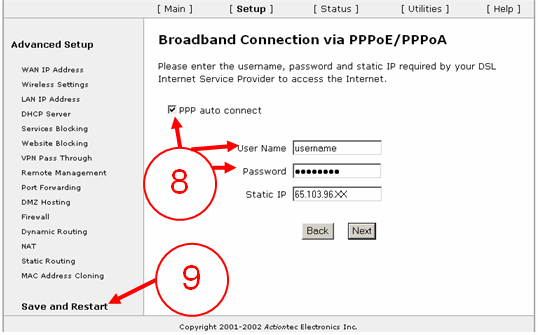 8 - Make sure "PPP Auto Connect" is checked, and enter your username and password in the appropriate boxes (call Earthnet to get them, they will be created when you create your account with us). You should also see your IP address (the Gateway IP address).
9 - Click Save and Restart. This will bring another page, called Save and Restart. Hit the "Save and Restart" button once again. The last window you will see is a Congratulations window. Your modem will then restart, and when the lights on the front panel of the modem go back to a green steady state, you should be able to connect to the Internet and use your IP addresses.
Related Links: