Actiontec Modem - Basic DSL Troubleshooting
If your modem is an Actiontec GT701, you can use the lights in front of the modem to perform some basic troubleshooting tasks.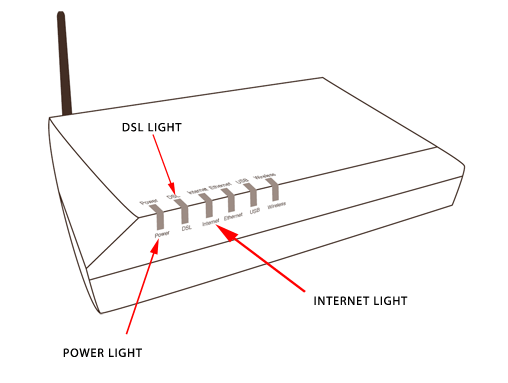 Please look at the lights in front of your modem. You should see several lights:
POWER – DSL – INTERNET – ETHERNET – USB – WIRELESS
(this only applies to the Actiontec GT701, charcoal grey color)
The picture above emphasizes the first 3 lights, Power, DSL and Internet.
If your DSL light is blinking and the INTERNET light is off , it usually means that something is wrong with the DSL line (it's probably not activated yet). In this case, you need to call Century Link technical support at 1-800-247-7285.
If your INTERNET light is RED and stays red for more than 30 seconds , then you probably entered your login or your password incorrectly (the red Internet light means that there's an authentication failure). Please go back to the "Non-windows setup" or "Alternate Setup" as instructed above, and re-enter your login and password, paying a special attention to the case (uppercase, lowercase) since login and passwords are cAsE-SeNsiTiVe. Then click the "save and restart" button.
If you are disconnected every 4 hours , please click here.
For all other problems, please call Earthnet at 303-546-6362.
Related links: