How to configure your DSL modem - 2Wire 1700HW Modems
DYNAMIC IP (Default)
These instructions will help you configure your 2wire 1700hw modem with a dynamic IP address.
Click here if your modem is not a 2wire 1700hw modem.
Click here to download the instructions manual for the modem (PDF, 3MB).
STEP 1 - BRING UP THE WEB INTERFACE
Open your web browser and type in the address: http://2wire.gateway.net
If that doesn't work, try the following address instead : 192.168.1.254
If this still doesn't bring up anything, do the following (on a Windows computer), click on the the Start button, go to Run, and in the little box that pops up, type cmd and click OK: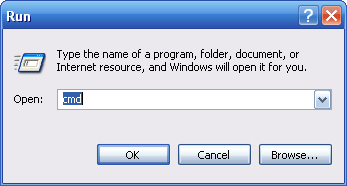 You should now see a black DOS window. At the prompt sign, type ipconfig /all and you will see an output similar to this one: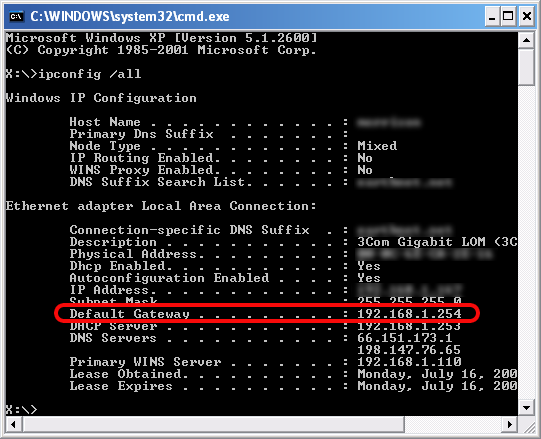 Notice the line circled in red? That is showing the "Default Gateway" address. In our screenshot, you can read: Default Gateway... : 192.168.1.254.
If you have something different, for example 192.168.0.1, or anything else, write down that Default Gateway address.
Now open your web browser, and type the IP address that you found next to "Default Gateway" and press enter.
STEP 2 - ACCESS THE MODEM
Under the "Set Up" heading, click on the "Run System Setup Wizard".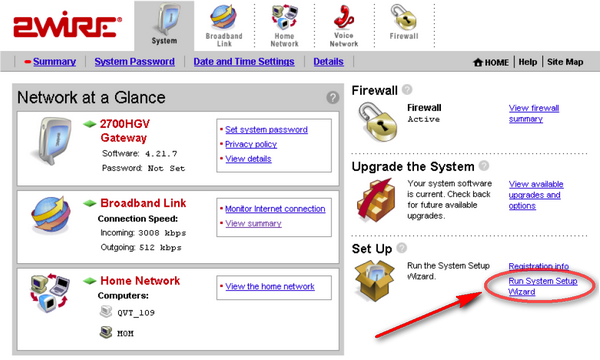 It will ask you to create a password for the modem. If you want to create a password, do so at this time (please note that this is only the password to access to the web interface of the modem, it is NOT your Earthnet password). If you don't want or don't need to create a password, just leave it blank and do not click 'enable'. In any case, click NEXT to proceed to the next step.
You will be prompted for an activation key, enter :
5225-2374-WG62-22AS-BJ7P
for manual configuration.
STEP 3 - CONFIGURE THE MODEM
From there it's straightforward:
Select PPPoA
Enter your USERNAME and your PASSWORD (be careful, your username and your password are CaSe SeNsItIvE!).
You don't need to set the DNS servers, the modem gets those from the DHCP server. However, if for some reason you want to set the DNS servers manually, use the following numbers:
Primary DNS: 72.18.208.30
Secondary DNS: 65.116.4.130