How to configure your DSL modem
2Wire 2700HG Modem - DYNAMIC IP
These instructions will help you configure your Actiontec modem with a dynamic IP address.
These instructions apply to the 2Wire 2700 HG DSL modem .
For the physical installation of the modem, please refer to the instructions that came with your modem. You might need to insert the CD-Rom provided with the modem to access those instructions.
Open your web browser and type in the address: 192.168.0.1
This will open the configuration window for the 2Wire 2700 HG modem: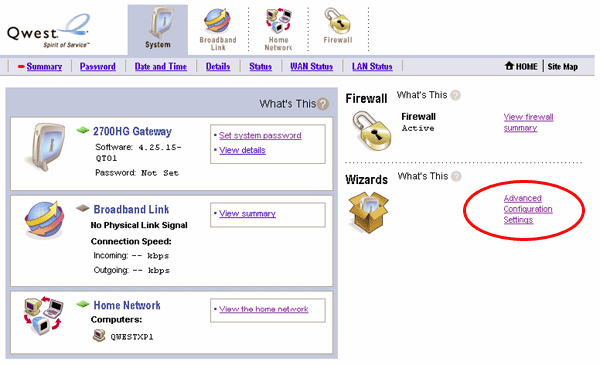 Click on the ADVANCED CONFIGURATION SETTINGS in the lower left-hand corner. It will display this page: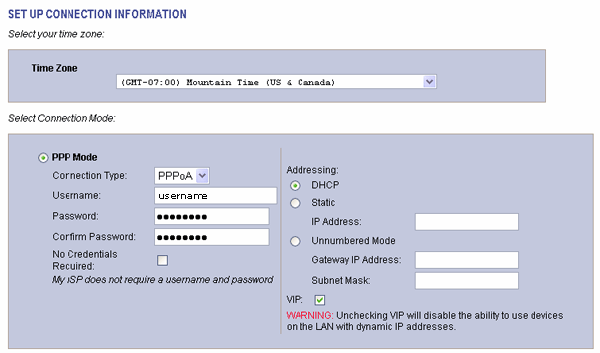 In the PPP Mode section (left column),
Choose

PPPoA

next to

Connection Type

Enter your

USERNAME

and your

PASSWORD

(be careful, your username and your password are CaSe SeNsItIvE!)
In the

Addressing

section (right column), choose

DHCP

, and leave the VIP box checked.
Scroll down: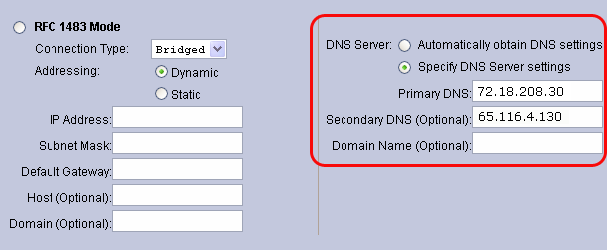 DO NOT check the RFC 1483 Mode.
Go to the right column (DNS Server) and select the second radio button: Specify DNS Server settings. Enter the following information:
Primary DNS: 72.18.208.30
Secondary DNS (Optional): 65.116.4.130
Leave the Domain Name (Optional) empty.
Now scroll down and click the SAVE button.
You can then click the Home button, to go back to the main configuration page.
For more information about this modem, try the Century Link website. If you need to check our settings, check our DSL Reference page.