Dialup Setup - Windows 95/98
These settings are for new users with Windows 95 or Windows 98. These instructions are also helpful for those who are experiencing connection problems and need to reset their dial-up networking settings. This step is the first step to take in order to establish an internet connection with Earthnet using your dial-up modem.
1 - Double-click on the My Computer icon on your desktop:

2 - Double-click on the Dialup Networking icon:

3 - Double-click on the Make New Connection icon:

4 - The Make New Connection wizard should pop up with a screen like this: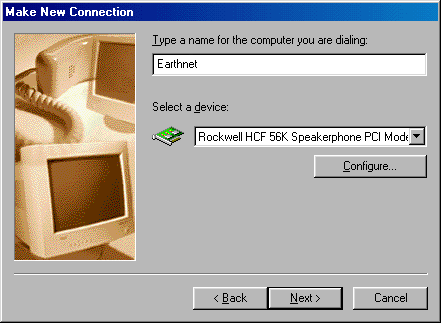 Type in Earthnet for the name of the computer you are dialing (this is merely a nickname that you give to your dialup connection).
Make sure you have a valid modem selected under Select a device. If nothing is showing in this drop-down box, you probably need to either buy a dialup modem, or to install the proper drivers for your dialup modem. Please check your modem documentation to find out how to install it properly.
You can now click Next.
5 - You will see a screen like this: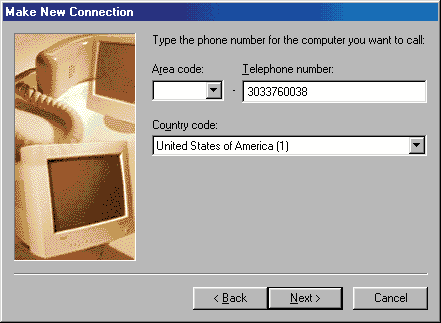 Type in the dialup access phone number in the Telephone number box.
Click here to find out which local dialup access number you should use. Avoid using a long-distance phone number for your dialup access, otherwise you will be charged long distance by your long distance carrier company for the time you are connected to the Internet.
Click Next when you are done entering the phone number.
6 - You should see the following screen: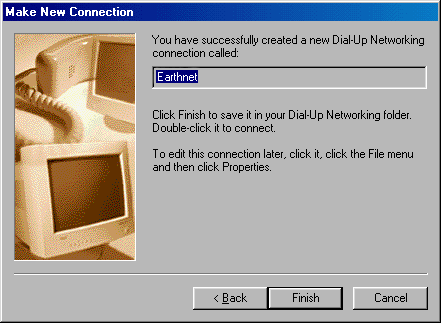 You can now click Finish.
7 - This should close the wizard window, and bring you back to the Dialup Networking folder. You should now be able to see a new icon, labeled Earthnet (or whatever name you gave to your connection during step 4):

8 - Click once (with your left button) on the icon, to highlight it. Now go to the File menu at the top, and choose Create shortcut: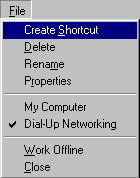 9 - The following box should pop up:

Click Yes (since what we're trying to do now is - precisely - to create a shortcut to your dialup connection on your desktop, for easy access)
10 - Now, right-click on the Earthnet icon and select Properties: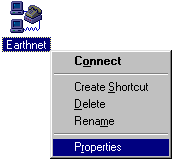 11 - The following screen will pop up: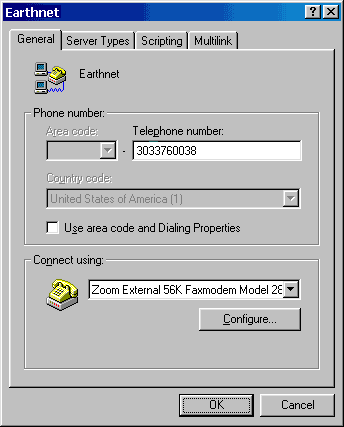 UN-check the box that says Use area code and Dialing Properties. If it is already unchecked, leave it unchecked. You can now click the OK button, which will close the dialog box and bring you back to the Dialup networking folder.
12 - We are about to connect for the first time. Double-click on the Earthnet connection icon:

13 - A new window will appear: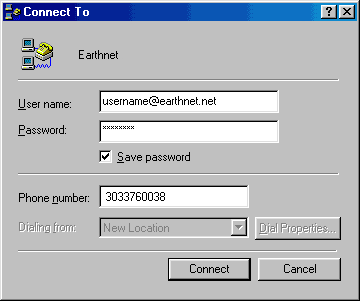 Enter your Earthnet dialup username in the User name box. Your Earthnet dialup username is usually the same as your email address - jsmith@earthnet.net for example.
Enter your Earthnet password in the Password box, very carefully and with the Caps Lock key turned OFF (since your password is case sensitive)
Check the box that says Remember password, unless you prefer to be prompted for your password every single time you want to connect to the Internet.
And now, the very last step: CLICK CONNECT!
The modem will now dial the dialup access number, go through a serie of high-pitched noises, then tell you that you are successfully connected to Earthnet.
Final note: next time you want to dial up, just double-click on the shortcut labeled Earthnet on your desktop, and click the Connect button.