Dialup Setup - Windows Vista
These settings are for new users with Windows Vista. These instructions are also helpful for those who are experiencing connection problems and need to reset their dial-up networking settings. This step is the first step to take in order to establish an internet connection with Earthnet using your dial-up modem.
1 - Connect to a Network
There are different ways to access that command.
1.a. - Direct link from the Start Menu:
Click on the Start button, and click on the Connect To button.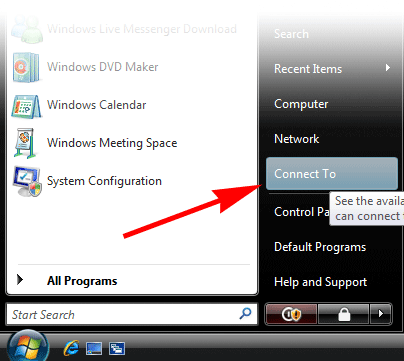 1.b. Via the Control Panel Home:
If you can't find a Connect To link on your start menu, click on Control Panel instead: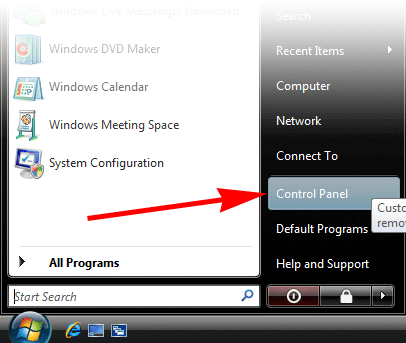 From the Control Panel, click on Network and Internet (circled in red):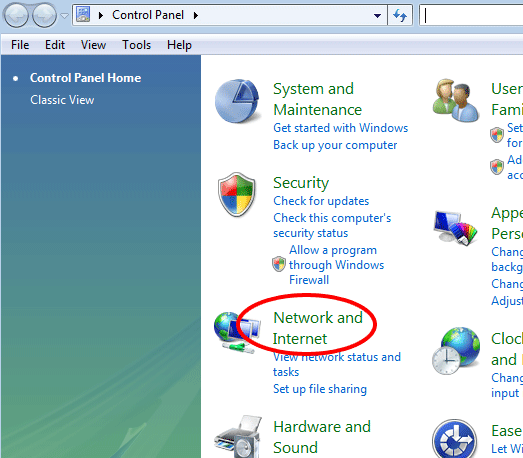 From there, click on Connect to a network (circled in red) under the first category called Network and Sharing Center :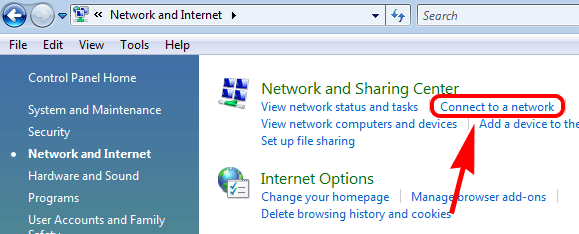 1.c. - Via the Control Panel in Classic View
If your control panel didn't look like the one on the screenshot in step 1.b, it might look more like this (this is the classic view). Click on Network and Sharing Center (circled in red):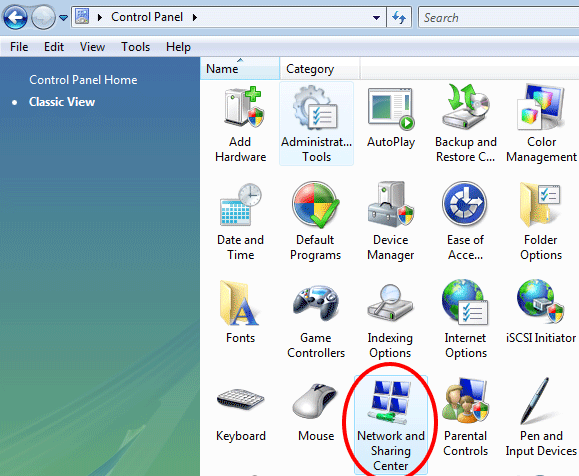 Now click on the Connect to a network link, in the left panel: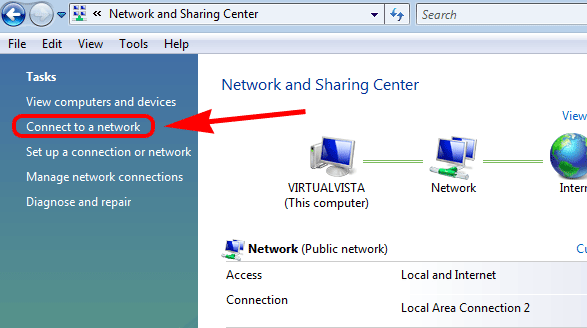 2 - Set Up Your Connection
Choose Set up a connection or network: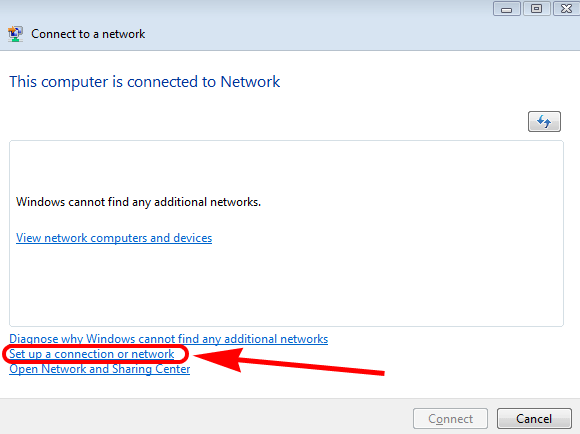 Select Set up a dial-up connection and click Next: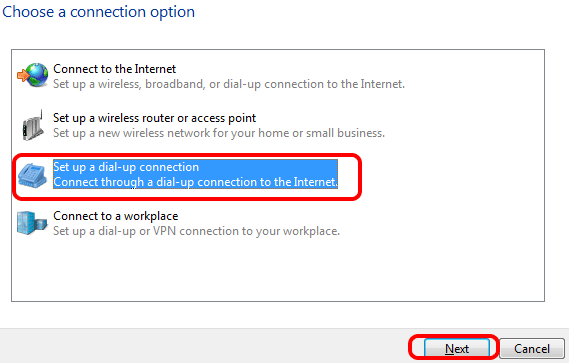 Note: If you don't have a modem installed, you will see the following screen: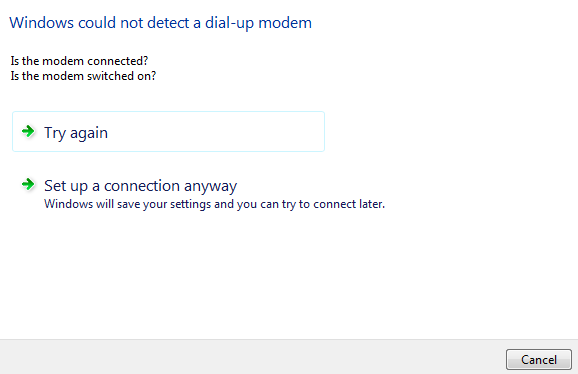 At this point, you will need to either buy a dialup modem or have it properly installed on your computer. You may seek the help of a trained computer technician.
If you do not see that screen, move on to the next step.
3 - Enter your connection information
This is the screen where you will enter your connection information: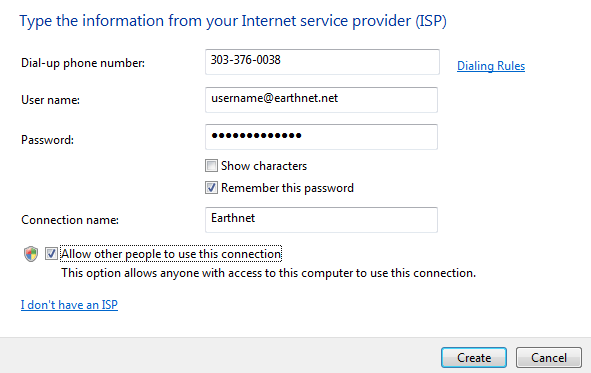 For the

Dial-up phone number

, choose a number that matches your area code here, and type it in the first field. You can use hyphens, or not, it does not matter.
Under

User name

, type in your full Earthnet email address, for example

joeschmoe@earthnet.net

.
Enter the

Password

assiciated with your Earthnet account in the next field. Remember that it is case sensitive! You can check the box "

Show characters

" to see what you are typing.
Check the box that says "

Remember this password

", otherwise you will be prompted for a password each time you connect to the Internet.
Under

Connection name

, you can write Earthnet, or My Dialup Connection, or whatever you like.
The box "

Allow other people to use this connection

" can be checked (it will basically let other users that share your computer connect to the Internet with the same connection). However, if you check the box, you will be prompted with the following warning box:

Simply click

Continue

.
When you are finished, click the

Create

button.
You are done, congratulations! Click the

Close

button:

4 - Connect to the Internet
To connect to the Internet, click on the Connect To button showed in step 1, click on the Earthnet dialup connection to select it, then on the Connect button at the bottom.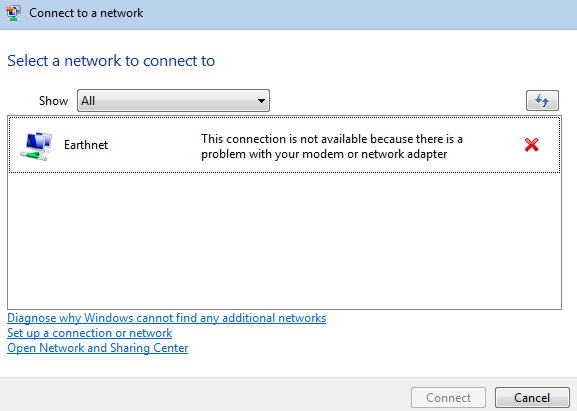 5 - Create a Shortcut
8 - To go further, if you wish to create a shortcut to your connection on the desktop, proceed as follows:
Open the Control Panel (in the Start menu).
If you are in the default view, click on "View network status and tasks" (from the classic view, simply double-click on the Network and Sharing Center icon):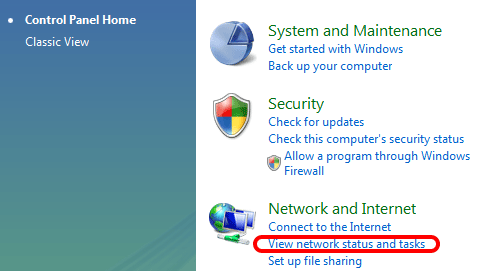 From there, choose Manage network connections on the left panel: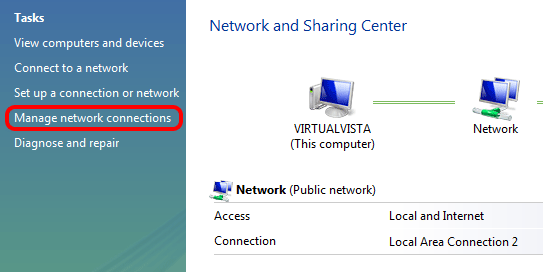 On that screen, you will see your network connections, including the dialup connection you just created. Do a right-click on that Earthnet dialup connection icon, and choose Create Shortcut: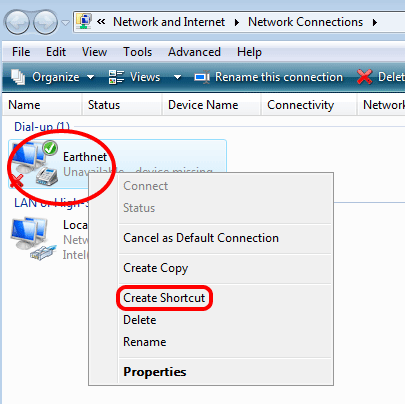 You will see a pop-up dialog box, simply click Yes:

You now have a pretty icon right on your desktop that you can double-click on to launch your Internet connection.
6 - How to edit/change your dialup connection settings
Open the Control Panel (see step 1)
If you are in the default view, click on "View network status and tasks" (from the classic view, simply double-click on the Network and Sharing Center icon):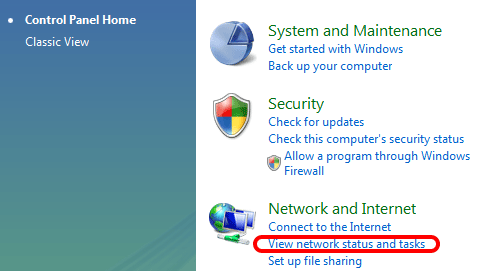 From there, choose Manage network connections on the left panel: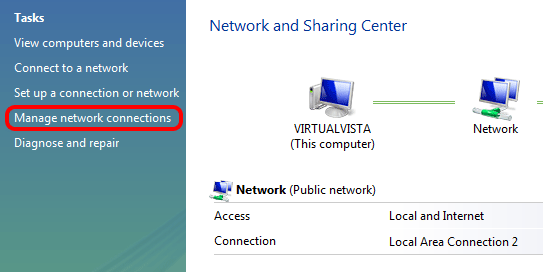 On that screen, you will see your network connections, including the dialup connection you just created. Do a right-click on that Earthnet dialup connection icon, and choose Properties: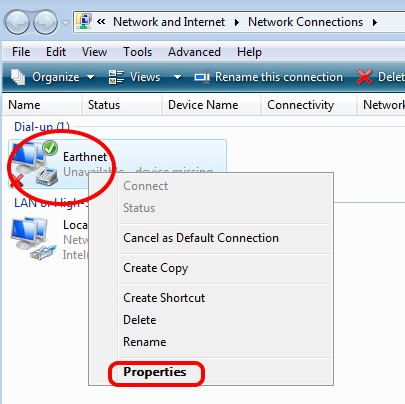 A new dialog box will open: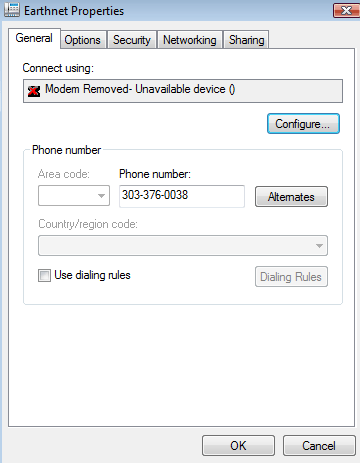 You can change the dialup access number on that screen. You can also browse through the different options located in the other tabs (Options, Security...)