Dialup Setup - Apple Mac OS 8 & OS 9
These settings are for new users with an Apple Macintosh computer running Mac OS 8. These instructions are also helpful for those who are experiencing connection problems and need to reset their dial-up networking settings. This step is the first step to take in order to establish an internet connection with Earthnet using your dial-up modem.
1 - Install and set up your modem
Instructions can be found in your modem's manual.
2 - Set up the Remote Access Control Panel (formerly PPP)
From the Apple menu, select Control Panels, and open the Remote Access control panel.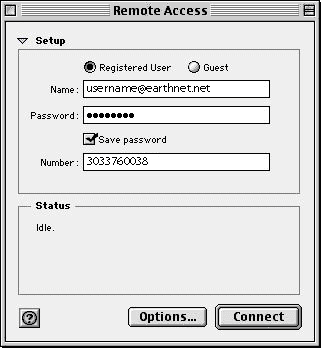 Enter your Earthnet dialup username in the Name box. Your Earthnet dialup username is usually the first part of your email address - jsmith@earthnet.net for example.
Enter your Earthnet password in the Password box, very carefully and with the Caps Lock key turned OFF (since your password is case sensitive).
Check the box that says Save password, unless you would prefer to be prompted for a password for each dialup session.
Type in the dialup access phone number in the Number box.
Click here to find out which local dialup access number you should use. Avoid using a long-distance phone number for your dialup access, otherwise you will be charged long distance by your long distance carrier company for the time you are connected to the Internet.

3 - Set up Open Transport TCP/IP
From the Apple Menu select Control Panels, and open the TCP/IP Control Panel.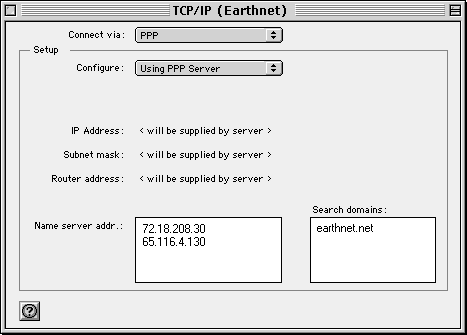 Enter the following settings:
Connect Via:

PPP

Configure:

Using PPP Server

Name server addr.:

72.18.208.30

and on the next line,

65.116.4.130

Search domains:

earthnet.net
4 - Restart your computer
5 - You are done!